Personal Cannabis
Consultation
If you want a detailed, personalized cannabis recommendation, this is the service for you!
In the first of two live sessions, the Intake Session, we'll discuss your goals in using cannabis, which cannabis products if any you've used in the past, what's worked and what hasn't, and cover foundational cannabis education.
I will use the information from the Intake Session to create your Personal Cannabis Guide, full of specifics on the right form factors (e.g. edibles, tinctures, topicals) and doses for you. You'll also receive two bonus documents: a dose tracker to capture your progress, and a handout on how cannabis works in the body.
At our second session, the Recommendation Session, we'll walk through your Personal Cannabis Guide. You'll have a chance to ask questions and ensure you're comfortable with the plan.
Your Personal Cannabis Consultation also comes with two months of email support following the Recommendation Session. Check in, let me know how you're feeling, and we can adjust your plan as you discover what works for you.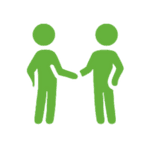 In this session, we will discuss:
Cannabis (CBD and THC) itself: what it is, how it's used, and how it works in harmony with your body.
Your goals in using cannabis; whether to treat an ailment, relax, improve your wellbeing, or all of the above.
Cannabis products you've used before, what has worked and what hasn't.
Which cannabis products are available in your area.

Cannabis works differently in everyone's body, we'll find the right fit for you!
Personal Cannabis Guide Creation
After your Intake Session, I will create your Personal Cannabis Guide, which will include detailed information on:
The products that are right for 

you

, tailored to your body and your goals.
The many ways to take cannabis.
Proper dosing and timing for each method.
How to track your use and results.
In the second session, we will:
Review your Personal Cannabis Guide in detail
Ask and answer all the questions you have, so you are confident in the information in the Guide.
Your Consultation includes 2 months of email support to help you in your cannabis journey.
Additional support is available on request.
Ready to get started?
Schedule Today!
Schedule your Personal Cannabis Consultation through this calendar!
Not sure which service is right for you? Book a FREE 15-minute Discovery Call!